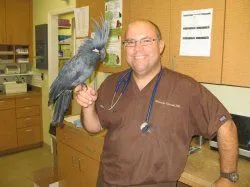 Alexander Villarreal, DVM
Dr. Villarreal received his degree from The University of Florida College of Veterinary Medicine in 1998. He is a native of Miami, Florida but relocated to Port Charlotte upon graduation. Dr. Villarreal and his wife have 2 sons and enjoy spending time doing family activities such as boating and attending Gator Football games.


---
Adrianna Ribas, DVM
Dr. Ribas was born and raised in Miami, Florida. As an undergraduate student at the University of Florida, Dr. Ribas spent most of her summers working at Collingswood Animal Hospital as a veterinary assistant. She graduated with a Bachelor's Degree in Animal Science in 2007. She attended Kansas State University's College of Veterinay Medicine where she graduated in 2011. After practicing in Miami for a few years, Dr. Ribas has decided to come back to Port Charlotte and join the Collingswood Animal Hospital family. Dr. Ribas is a very proud wife and mother who enjoys spending time with her family, hiking, fishing, and cheering for the Gators. She also has 2 dogs, a cat, a turtle and a gecko.
---
Cole Goracke, DVM
Dr. Goracke graduated with honors from the AuburnUniversity College of Veterinary Medicne in 2015. He was born in Wisconsin and raised in Charlotte County wherehe graduated from Charlotte High School in 2007. He and his wife, Amanda, havefour children, two dogs and a cat that keep them very busy. When free timeallows, Dr. Goracke enjoys fishing, golfing and spending time with his family.